Ameri-Cal Weight Clinic uses the following
FDA approved appetite suppressants:
Phentermine
(known by brand names Adipex, Fastin or Pro-Fast)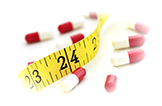 Phendimetrazine
(known by brand name Bontril)
Diethylpropion
(known by brand name Tenuate)
________________________________________________________________________________________
These appetite suppressants are an important part of our weight loss program, which when coupled with diet and routine exercise, lead to significant weight loss.
These medications are safe, effective and generally well tolerated.  They have been used by millions of people for more than 50 years.  However, they are not right for everyone.  These appetite suppressants should not be taken if you are pregnant or breast-feeding, if you have a history of heart disease, severe or uncontrolled high blood pressure, overactive thyroid, glaucoma, if you are in an agitated state, or if you have a history of drug or alcohol abuse.  Our physician will discuss these medications in the context of your health history prior to dispensing.
We also have the following supplements:
MIC B-12
– This is a lipotropic injection that contains methionine, inositol, choline and B-12.  These compounds aid in the breakdown of fats, detoxification of the liver and maintenance of healthy cell membranes.
Methylcobalamin or Cyanocobalamin
 – These vitamin B-12 injections play an important role in the prevention and treatment of anemia by assisting the body in the development of red blood cells.